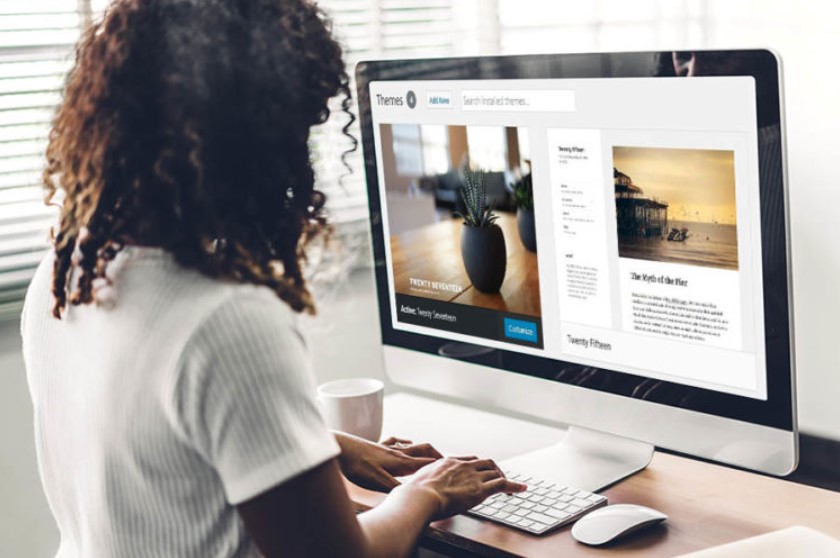 You may be under the impression that learning how to customize WordPress is a difficult task, but in reality, it is not.
Because there are so many themes available, it is not too difficult to find a new theme to use on your WordPress blog. But if you just can't seem to find a theme that is exactly perfect, you can always learn how to WordPress theme customize on your own and take matters into your own hands.
It is important to keep in mind that if you have downloaded a theme, you will need to contact the theme's designer in order to ensure that they are okay with your making modifications to the theme. You should check to make sure, but the vast majority of theme developers won't have a problem with it as long as the theme includes a connection back to their website. If everything else fails, you always have the option of customizing the WordPress theme that is pre-installed.
Now, today I'm going to walk you through the process of changing the graphics that come included with the WordPress theme. The process of personalizing and making a WordPress theme your own can't get any simpler than this. I believe that life should be kept as uncomplicated as possible. If you are happy with the structure of the site, there is no use in attempting to change it. Based on our simple theory, we will find the graphics that are already being used on the theme and change them so that they fit with our new theme.
You will need to look for the image files associated with the theme that you are currently using. If you installed the theme manually, completing this task won't be difficult at all. If you used WordPress to do the installation of the theme in an automated fashion, you will need to locate the theme and save it to your computer's hard drive.
When you have the theme saved to your hard drive, the next step is to navigate to the folder where the images are stored. It is highly likely that the image folder will be found inside another image folder that is contained within the theme folder. The name of this folder is up to the person who is developing the theme. However, the majority of developers will call it either "image" or "img."
You should be able to find the graphic files for the header, background, icon, and footer, as well as any other graphics files that are utilized in that theme, within this folder. You should create a copy of these photos before making any changes to the originals, and then you should copy the copies into a working folder on your hard drive. It is simpler for me to make a copy of the image files and utilize that copy as the foundation for my work. There is no room for doubt on my side because I am already aware that they are compatible with the concept and that they are the appropriate size specifications that I require.
You will need a graphic editing tool that is at least passable to be able to modify these files. If you do not already have Adobe, you can get GIMP for free if you do not already have it. When you have finished starting up your graphics application, the first thing you should do is add a layer to the image so that you may begin your work on a "new canvas."
After this point, it is primarily a matter of putting your design skills to use. You may simply copy and paste more photos into the new layer if you have any other photographs that you would like to use in place of the images. When it comes to the editing choices available to you for your graphics, there are no boundaries. I could go into more detail, but the design of graphics is already a whole guide in and of itself.
When you have finished editing your visuals to your satisfaction and are ready to reveal your customized WordPress theme, it is time to do so.
There are two different approaches that can be taken when installing your new customized theme.
Using a file transfer program (FTP), you can manually upload any new graphics you have created. You need to make sure that you upload the graphics to the appropriate folder and then overwrite the existing pictures with the new ones.
You can log into your WordPress blog after copying and pasting your new files into the graphics folder of the existing theme on your hard drive. This will allow the new files to be installed automatically. It is possible that you will need to uninstall the existing theme in order to install the new one, or you may need to rename the theme that is stored on your hard drive.
The following are the fundamentals of how to customize WordPress with various types of media. You might wish to get in touch with the person who designed the initial theme and show them the changes you made to it. If they enjoy it enough, they might even link to your site to demonstrate how well it fits the theme!
Related Posts